Online dating has been very effective in bringing gays and bisexuals together in an easy way. It has created an avenue through which men can fall in love with other men from anywhere in the world. Love is a wonderful feeling that makes people feel the need for companionship. A lot of men enjoy the company of other men because that is where they find comfort. Dating sites have made it easy for such men to meet, chat, hookup, date, make friends, etc.
You might wonder, "what is MenChats all about?" MenChats.com is a gay dating website that connects gays and bisexual men from every location. It's an immense online community where men of different cultures, races, and tribes get to meet each other in order to have fun. The site is a free dating platform that started in 2003. Almost two decades later, it has evolved to be a cam website where gays watch free, exotic, and erotic shows.
MenChats is more than a dating site; it's a safe world for gays who just want to have a good time being with other gays and bisexual men. You can easily sign up on the site just to watch handsome young men who love to give a show with their amazingly hot body.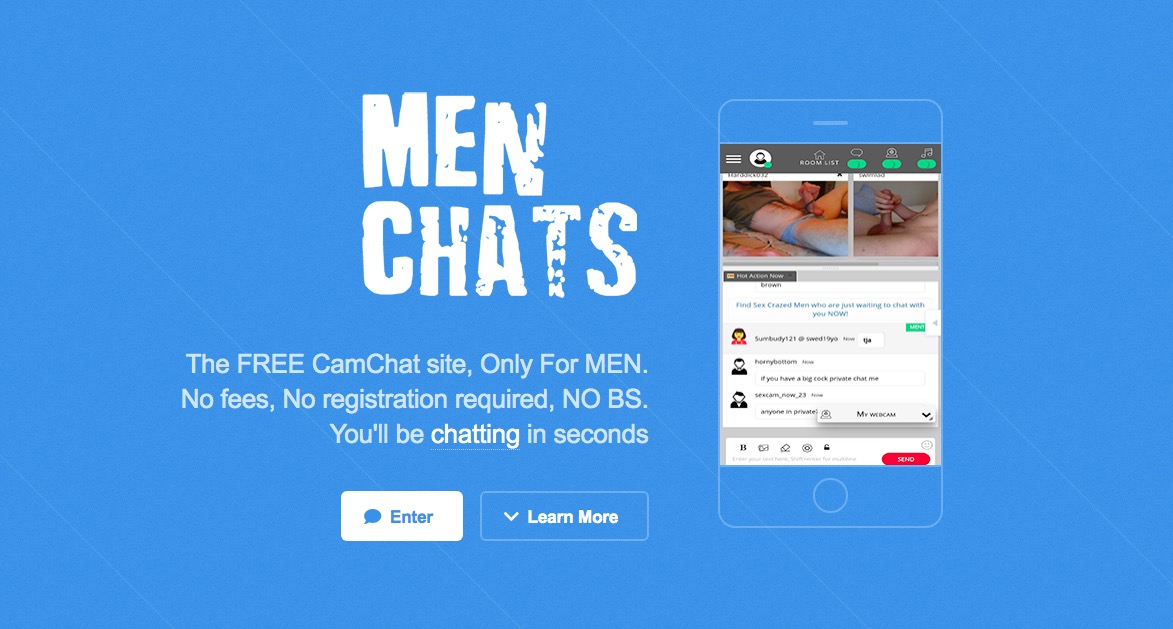 MenChats Usability
The experience the team behind the success of MenChats has gained over the past years can be seen through the dating site's design. The dating site has steadily improved to attend to the needs of the people better. The site is functional, easy to use, and useful to the growing gay community.
One of the perks of MenChats is that it uses a very simple design for its web pages and chat app. The whole interface is a combination of old-system navigation and new-system functions. Everything you need to understand is detailed in such a way that it becomes almost impossible to miss it. Your experience as a member means little when it comes to operating the site.
When you initiate a MenChats log in from the home page, you will be directed to the site's chat app. The chat app is an inbuilt web app that does all the functions of a mobile app. The only difference between the mobile app and the web app is that you do not need to download the web app on your computer.
The saying that "seeing is believing" works well for Men Chats. As a visitor on the site, you can see the available chat rooms at the bottom of the site page and the currently active users on each active room. On the left side of the first page, you will see a link to the chat rules, settings icon, as well as language options.
Once you log in, you will notice that joining the chat room is very easy. If you choose to join any room or a video chat, the webcam options will tell you all you need to know.
Is MenChats Worth It?
The availability of a dating site that functions more like a community is a thing of joy to gays and men who are bisexual. MenChats is like a world devoid of hate, homophobia, and condemnation. It's a place where like-minded people get to mingle freely with pure love and genuine affection. The dating site is free and open to anyone who is gay and people who are willing to learn about the gay lifestyle.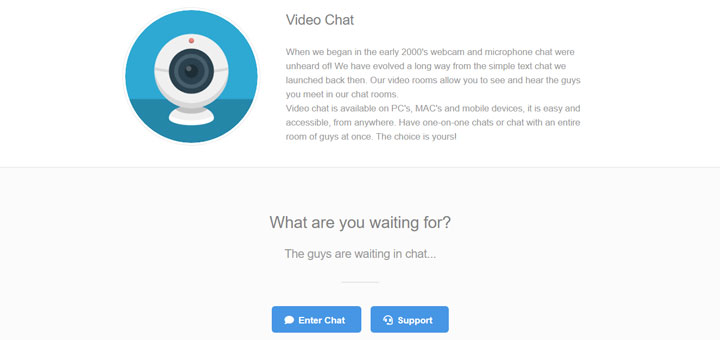 Is MenChats Good Enough For Gays?
If you need something to help you relax after a long day at work, MenChats is the place to be. The great bodies of men of all categories and race will make you feel calm and happy. Gay men all over the internet have testified to the greatness of the dating site. Most of the MenChats dating site reviews succinctly reveal that the site truly cares about its members. Many users have attested to the fact that the site is the perfect place to relax or get some steam off the body.
Finding love on the site makes it all the more worthy of the online hype it's receiving. It's straightforward to find someone who shares your interests and would love to take things to the next level with like-minded people.
As is expected of any dating site, MenChats has its pros and cons, and some of them are revealed below.
Pros
The online community makes it easy for people to learn about the gay lifestyle.
The video chat options make the connection more comfortable, and it also creates a stronger bond between members.
The site is free to use by anyone who is of legal age.
Cons
MenChats has no mobile app yet.
The site's design could use a little improvement.
How Does MenChats Work?
MenChats work like every dating community, albeit with a few tweaks that make it unique. Since the site functions more like a dating community, your first instinct won't be to look for a potential match. Your first look into the site will leave you awed by the plethora of good-looking men who are there to catch fun. Catching fun is the most significant flex about MenChats. Your day will become brighter, and your smile will become bigger when you visit the site.
Once you log in, you'll be able to choose any room of your choice or join any live video chat you want. During a video chat, you might admire the person on the other end of the call, and once this feeling is mutual, then your dating journey begins.
You can access many other features on the site whenever you click on any of the chat participants' username. Some of these features include;
Add Contacts. You can add other contacts or the participants of a chat room to your 'Contacts' list. This enables you to see if they're online and active whenever you log in to the chat site. It also makes it easier for you to message them in just one click.
Private Message. You can easily send a private message to any active user in any selected chat room. Private messages bring a separate chat window where you can chat freely with the user.
Whisper. This feature is an excellent one when it comes to flirting with members on the site. Choosing to 'whisper' to another user means that you can send a tagged message on a current chat window that will only be visible to the tagged person. This feature is mostly used when a member wants to flirt with another member in a room.
Sign Up/Registration
Registration on MenChats is not compulsory or needed for those who are only interested in watching live videos. Once you get past the first page, you can decide to register as a member or enter as a guest. As a guest, all you need to register is a unique username and your age. You can also indicate your location and create a bio, but these options are optional. Once you provide the necessary information, you'll be able to access the full features of the site. The difference between a guest and a registered member is that you won't be able to save your private chats as a guest.
For those who want to register as members, the process is easy and fast. First, you'll have to indicate if you're signing up as a man or a couple looking for another man or other couples. As a gay website, MenChats is strictly for men who are either gay or interested in the lifestyle. At this initial stage, you'll then create a username for yourself and indicate whether you're over 18 or not.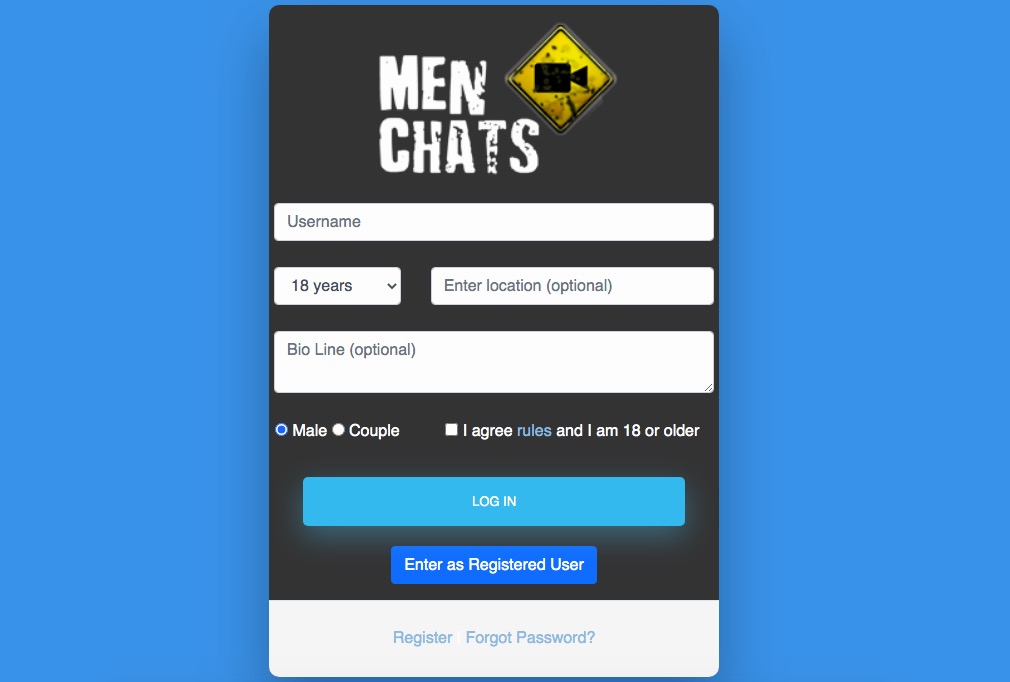 Safety/Legal/Scam
When it comes to online dating sites, the issue of safety requires patience. MenChats.com has put everything in place to ensure your safety when it comes to personal information. The MenChats dating site is totally free, so there's never any need for you to conduct any financial transactions. Also, as a chat site, MenChats encourages users to be very conversant through video calls. Video calls are a great way to verify the authenticity of any member on the site, so you'll be sure they are real.
MenChats.com is a licensed dating site that operates within the suggested framework of how gay sites should operate. The few fake accounts that are created are quickly thrown down the pecking order because people converse more with those that can verify their identity through video calls. You don't have to be unsettled about keeping your contact information private because no one can access it until you choose to share it. You can quickly join a chat room or start a private message chat and talk to people online to set up naughty dates. When you feel comfortable enough with a chat partner, you can share private details and arrange to meet them personally.
Search And Profile Quality
The profile quality of Men Chats is a bit different from other sites. MenChats encourages anonymity, so users do not need to upload their photos before being contacted. Also, since guests can access the site, profile creation is not mandatory. However, there are still some well put profiles on the site that would catch your attention. If you're going to upload a picture on MenChats, you'll have to upload clean pictures. You would attract more attention with a clean image attached to your profile.
Just like the profile quality, the search feature is also not mandatory on MenChats. The only time you'll need to use the search tab is when you're trying to reconnect with another member. MenChats want you to mingle with everyone you see on the site and create bonds with total strangers. The truth about MenChats.com is that you'll gain more exposure when you associate with many gay men from all over the world. Mingling with your fellow gays will give you a feeling of satisfaction that might be lost to you in the physical world.
Cost/Prices/Plans
MenChats is totally free of all charges. On the site, a fantastic experience awaits you because you do not need to spend a dime before enjoying the site.
Help And Support
Dating sites have evolved over the years, and many of the things available in the physical world have been adopted to the online world. Generally speaking, people feel better and more assured when they have someone they can contact when things go south. Having a channel through which complaints can be submitted is one of the many positives of MenChats.
The help and support channels on MenChats remain the very best online customer service support. Just like the site itself, MenChats customer support is being run by a team of professionals. The site has over 7,000 different moderators and more than 6,000 team members whose job is to listen to complaints.
One of the primary reasons you should applaud the customer service support is that you'll be attended to within 24 hours no matter what the issue is.
Good customer service support is essential to the growth of any dating site. When people can hear back within minutes or hours of lodging complaints, it gives them the belief that they matter. You can always reach the customer service team through a feature known as "submit a ticket." Through this feature, you will be able to send a message after entering your name, mail, chat name, and the subject of your message.
Conclusion
Gays are amazing people who enjoy making others happy. A gay community where everyone is friendly and respectful is a perfect place for any gay to be. MenChats offers gays and bisexual men premium sites at no cost. It's a place where you can be whoever you want, and a place to relax and be in a good mood.
If you are looking for something different yet so unique, MenChats.com is precisely where you can need to visit.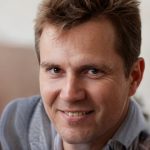 Education: Master's Degree in Psychology, Sexologist
Expertise: Partner search, partnership
Christopher Huber is a qualified psychologist with a systemic, solution-oriented perspective. He specializes in consulting in ​​"partner search and partnership." For the last five years, he has been working intensively, both academically and in an application-oriented manner. As a psychotherapist, he helps parents understand their children better, spouses to figure out what went wrong, individuals to establish relationships with the world. Christopher lets other people understand interpersonal relationships better by publishing his blogs on various sites.